4D Lashes Narrow 0,07 mm - loose 1000 fan
4D Lashes Narrow 0,07 mm - loose 1000 fan
    

There are 800 - 1000 perfectly symmetrical finished fans in every package.

    

The narrow fans are narrower compared to the standard types of volume eyelashes.

    

Made to look full, smooth and professional.

    

Stunningly light, soft with a thin, firm and conveniently long connection.

    

The fans are loosely placed in a plastic cup. For lashes on adhesive tapes, select the Narrow Premium option.

    

Handmade, of the highest quality material.

    

Choose from different types of curvatures and lengths.
You earn 28 Bonus Club points by purchasing this item.
Register and safe 10%
This product is available at more convenient price.
---
Product description
The Narrow voluminous lashes you want are now available in an even larger package
Lash artists and their clients love them just the same. The popular sprinkled option of the Narrow volume lashes is now available in a larger package (up to 1000 pieces in every cup) at a great price!
With these lashes, you will create the richest, fullest and perfectly aligned set of lashes. Compared to our Lashes PRO standard volume lashes, the Narrow lashes are narrower and more compact, leaving your lashes looking fuller, beautiful and well-groomed.
Thanks to their features, Narrow lashes are perfect for creating the so-called "Russian Volume". However, if you prefer modern, fluffier lashes, choose from our Classic, Camellia or Wispy assortment.
Why Choose Finished Fans
Compared to manually creating fans, finished fans cut your lash application time in half yet they are as durable as manually created fans – it all depends on the work of the lash artist.
Read more about this topic in our blog on comparing finished and fresh fans.
Even with its narrow design, every Narrow lash remains perfectly symmetrical. However, this is difficult to achieve when creating your own "live" fans. They are made of really thin connections, which blend in perfectly with your natural lashes upon application and hold firmly in place.
4D Narrow lashes combine four ultra-thin lashes into one connection. They are ideal for achieving a very full and smooth set of lashes, which no mascara can achieve. Guarantees a seductive look!
Tip from lash artist, Dana: Have you tried these types of fans and absolutely fall in love with them? I am not surprised! Don't hesitate to also try our Narrow Premium line. The fans are placed on tapes into sturdy containers, which are subject to strict quality control, guaranteeing that your clients only get the best.
Further Information:
    

Application of the finished fans is similar to the lash-to-lash method (1:1).

    

They are light, with firm connections made of the best material, so they don't cause any irritation.

    

The fans are sprinkled in a plastic cup.
Intended for professional use.
Which type to choose?
Types of fans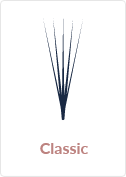 Curves
Thickness
The recommended thickness of 0.07 mm ensures a gentle and natural lash extension result. If you want a set with better retention, we recommend thinner lashes of 0.05 or less.
Length

Reviews
---