Classic Lashes silk individual lengths (0.15mm)
---
Product description
Sweet and sexy
Every lash stylist's mission is to conjure up the most beautiful feminine look, making every client feel beautiful and confident. Achieve this with the help of silky, lightweight and deep black Classic Silk lashes.
In the box you will find 8,000 lashes in 16 densely packed rows placed on adhesive strips. The lashes are made of high quality fibers and guarantee easy handling. They are designed for the algae-to-algae (1:1) application method.
Not sure if these lashes will suit you? Try a set of Classic Silk lash samples in three different lengths (9 - 11 mm) first.
Lash artist Dana recommends:Ease the handling of Classic Silk lashes with Expert Ideal.
Which type to choose?
Types of fans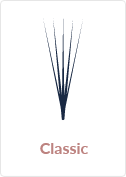 Curves
Thickness
The recommended thickness of 0.07 mm ensures a gentle and natural lash extension result. If you want a set with better retention, we recommend thinner lashes of 0.05 or less.
Length

Reviews
---