---
Product description
Impressed by volume
The golden box with 16 full strips won't let you sleep until you have gifted all your clients with a perfect and seductive look.
You can peel and stick the Air Flat eyelash strips into place as you wish, making them easier to handle at any given moment. The split ends of the lashes add volume and a natural effect to the lashes. In addition, the package includes lashes in different lengths, so you can achieve the most natural result possible.
Air Flat lashes are typical because they are not round, but rather flattened in shape and end. This is what makes them beautifully adhere to the natural eyelash during application and create a really strong bond with long lasting.
Lashes PRO recommends:To get the job done with Air Flat lashes properly, use the Diamond Universalpinsetter to manipulate your eyelash extensions.
Which type to choose?
Types of fans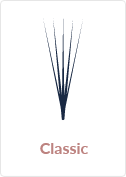 Curves
Thickness
The recommended thickness of 0.07 mm ensures a gentle and natural lash extension result. If you want a set with better retention, we recommend thinner lashes of 0.05 or less.
Length

Reviews
---