8D Premade fans - loose fan
---
Product description
A natural look that dazzles
Looking for false eyelashes that will conjure up a rich seductive look for your client? Well, that's exactly what we've packed into this package for you.
Thanks to the ready-made fans, your eyelash extensions will be a breeze. Working with them is up to half as fast as when you create the fans yourself during application. The reason for the easy and pleasant application is the thin bond that easily adheres to the natural eyelash.
Faux eyelashes in fans are suitable for all lash stylists - whether you have a small salon or a large studio.
With rich, thick black lashes combined with quality accessories, you'll give your clients the alluring and natural look that every woman desires.
You can also reach for the Premium option, which will give you even more fans of the highest quality.
Lash Artist Dana's Tip:Not sure which tweezers to choose and have 3 minutes to figure it out? Read my Eyelash Tweezers Guide and choose the right one for your work.
Further Information:
Application of the finished fans is similar to the lash to lash method (1:1).

They do not cause irritation.

The fans are sprinkled in a plastic cup.

Designed for professional use.
Which type to choose?
Types of fans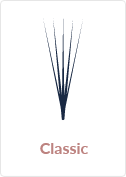 Curves
Thickness
The recommended thickness of 0.07 mm ensures a gentle and natural lash extension result. If you want a set with better retention, we recommend thinner lashes of 0.05 or less.
Length

Reviews
---