6D Lashes 0,07mm - loose fan
6D Lashes 0,07mm - loose fan
Light as a feather, extra black and amazingly soft.
Handmade, with a thin, strong and ideally long joint.
The package contains 800 -1000 perfectly symmetrical finished fans.
For all lash stylists who want to achieve fast and perfect results.
Choose from different types of curves and lengths.
You earn 35 Bonus Club points by purchasing this item.
Register and safe 10%
This product is available at more convenient price.
---
Product description
Insurmountable View Half Faster
As a lash artist, you probably know best how much false eyelashes can do to a woman's eyes and confidence. Plus, with our ready-made fans, you'll be able to do it really well.
That's because the ready-made fans feature a thin, strong bond of the ideal length that greatly adheres to the natural lash and lasts a long time. Finished fans will save you hand cramps and the time you spend making the fans yourself.
If you don't have experience with fans, now is the time to give them a try. You can easily conjure up really beautifully voluminous, deep black lashes with them rather than using the classic lash-to-lash method.
Because of their easy, up to half the application time and perfect final effect, fans are a favorite of all lash stylists, whether they own a small salon or a large studio. Do you like them too?
When working, don't forget quality tools and equip yourself with the right pinset and gel eye pads to make lash extensions even easier.
Lash stylist Dana advises:Not sure which tweezer to choose and have 3 minutes to figure it out? Read my Eyelash Tweezers Guide and choose the right one for you.
Further Information:
Application of the finished fans is similar to the lash to lash method (1:1).
They do not cause irritation.
The fans are sprinkled in a plastic cup.
Designed for professional use.
Which type to choose?
Types of fans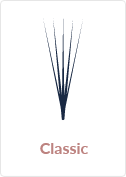 Curves
Thickness
The recommended thickness of 0.07 mm ensures a gentle and natural lash extension result. If you want a set with better retention, we recommend thinner lashes of 0.05 or less.
Length

Reviews
---