5D Volume Lashes 0,07 mm Premium 1200 pieces
5D Volume Lashes 0,07 mm Premium 1200 pieces
1 200 pieces of premium fans carefully selected.
The material is high gloss and ultra light.
The application is similar to eyelash on eyelash.
Belongs to the top on the European market due to its quality.
They perfectly copy the natural lash.
They are handmade and have a thin solid connection.
You earn 43 Bonus Club points by purchasing this item.
Register and safe 10%
This product is available at more convenient price.
---
Product description
Professional execution to the first place
If you want to get to know a person, look into their eyes. Most women crave a deep sensual gaze, but few have this gift by nature. Now you can give it to them! The Lashes PRO® Premium 5D volumizing lashes in ready-made fans
will help you do just that.
Each fan is handcrafted with fine, extra soft and shiny lashes. As a result, the fans can be fearlessly applied to the natural eyelash and the resultant effect will look natural and airy.
Luxury set1200 pieces of premium fans come in a practical cartridge and you can choose from several types of curves and various lengths.
Each bundle of Lashes PRO® Premium 5D Volume Lashes is held together by a thin, strong bond that adheres beautifully to the natural lash, making application very comfortable and effective. You will save time, you will be rewarded with the resulting maximum volume and density and, of course, a satisfied client.
The application is similar to the eyelash to eyelash method (1:1) and can be mastered even by a skilled beginner, for the experienced stylist working with finished fans is literally a joy.
Are you starting a business in the industry and looking for advice and referrals? See what our lash artist Dana recommends. It takes barely a few minutes to read and you can take away a whole host of valuable tips.
Further Information:
These lashes are among the top of the European market.

Application is similar to the algae to algae method (1:1).

The eyelashes are very soft and do not cause any irritation.

The product is designed for professional use.
Which type to choose?
Types of fans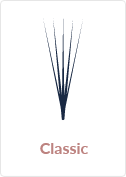 Curves
Thickness
The recommended thickness of 0.07 mm ensures a gentle and natural lash extension result. If you want a set with better retention, we recommend thinner lashes of 0.05 or less.
Length

Reviews
---