5D Volume Lashes 0,07 mm Camellia Premium 1050 pieces
5D Volume Lashes 0,07 mm Camellia Premium 1050 pieces
     

Creating a fluffy set has never been easier!

     

The 5D fan is made up of five lashes in two lengths

. Thanks to this the Camellia artificial lashes create a very natural impression.

     

Modern and very high-in-demand volume lashes

, made of shiny, very light-weight, extremely soft material.

     

A thin and firm connection of every fan

ensures easy application and perfect adhesion of the artificial lashes.

     

All the fans are perfectly symmetrical

(the spacing between the individual lashes is the same). They beautifully copy the natural lashes and help create amazing volume.

     

There are 1050 pieces of Camellia fans in every package.

Various lengths and curvatures are available.
You earn 43 Bonus Club points by purchasing this item.
Register and safe 10%
This product is available at more convenient price.
---
Product description
For thick and naturally-looking lashes
Create a natural look while giving your client divine volume. Introducing Camellia volume lashes that will enchant you and your clients!
This modern type of fan conceals two different lash lengths in every individual piece. It thereby mimics the natural growth cycle of the lashes, where some lashes are a bit shorter than the others. Therefore, enabling you to create an infinitely natural and textured look without much effort!
Despite their natural look, the created sets don't lag behind when it comes to volume. On the contrary, they look beautifully full, fluffy and light.
(Figure: Comparison between Classic Premium and Camellia Premium)
How to work with Camellia artificial lashes?
Tip lash by artist Dana: working with Camellia volume lashes is no different from applying traditional fans. You need to keep these two particular things in mind:
Firstly – Camellia lashes are made up of more lengths of artificial lashes in one fan. These lengths vary by 2mm. When selecting and applying the Camellia fans, always use the longest lash length of the fan as a guide. In practice – if you're used to applying 11mm long lashes on the outer corner of the client's eye, select 11mm Camellia fans, in which 11mm and 9mm lash lengths alternate.
Secondly – When applying the lashes, use the traditional lash map that you are used to using on that client. The Camellia volume lashes will take care of the expected fluffy and natural look.
Further Information:
        

These lashes are among the best on the European market.

        

Application is similar to the lash-to-lash method (1:1).

        

The fans are very soft and do not cause any irritation.

        

The product is intended for professional use

.
Which type to choose?
Types of fans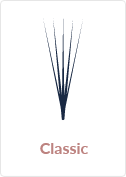 Curves
Thickness
The recommended thickness of 0.07 mm ensures a gentle and natural lash extension result. If you want a set with better retention, we recommend thinner lashes of 0.05 or less.
Length

Reviews
---