5D Volume Lashes 0,03 mm Premium 1200 pieces
5D Volume Lashes 0,03 mm Premium 1200 pieces
1,200 pieces of premium fans carefully selected
The material is high gloss, ultra light, very soft
It belongs to the top on the European market
They perfectly copy natural Lashes
They are handmade and have a thin solid connection
100% do not cause irritation
It guarantees faster application and a perfect result
You earn 56 Bonus Club points by purchasing this item.
Register and safe 10%
This product is available at more convenient price.
---
Product description
A seductive look and irresistible lightness
A perfectly thick,yet natural look is exactly what women expect from artificial lashes. Now you can give them that with Lashes PRO® Premium 5D volumizing lashes that do so much more!
They are made of very lightweight, high quality material that when applied, gives natural lashes breathtaking density and volume. And not even the finest mascara can do that. Extra black color will give the overall effect the necessary depth and predation.
Even a handy beginner can work and lengthen lashes with this material, and professionals will find it a literal joy! Each fan is finished with a thin, tight, ideally long joint.
The fans are supplied in aluxury cartridge in which they areprecisely selected and carefully lined up on adhesive strips, making handling very easy. Thanks to the quality design, they don't fall apart and with appropriate tweezers you will find their applicationeasy to handle.
Further Information:
These eyelashes are among the top of the European market.
Application is similar to the algae-to-algae method (1:1).
The eyelashes are very soft and do not cause any irritation.
The product is designed for professional use.
Which type to choose?
Types of fans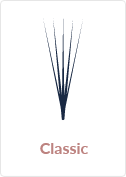 Curves
Thickness
The recommended thickness of 0.07 mm ensures a gentle and natural lash extension result. If you want a set with better retention, we recommend thinner lashes of 0.05 or less.
Length

Reviews
---