4D Volume Lashes 0,07 mm Premium 1200 pieces
4D Volume Lashes 0,07 mm Premium 1200 pieces
1,200 pieces of premium fans carefully selected
The material is high gloss and ultra light
They are extra black and very soft
It belongs to the top on the European market
They perfectly copy natural Lashes
They are handmade and have a thin solid connection
100% do not cause irritation
It guarantees faster application and a perfect result
You earn 42 Bonus Club points by purchasing this item.
Register and safe 10%
This product is available at more convenient price.
---
Product description
A perfect professional look
Lashes PRO® Premium 4D Volume Lashes will surprise you with its practicality and luxurious look. From the first time you open the elegant cartridge, you'll know you've made the right choice.
The reels are arranged side-by-side in neat rows on the tape, giving you perfect visibility and convenient handling. Each fan is made by hand from lightweight and soft material. The client hardly feels the set on her eyelids after application. But what she is guaranteed to notice will be the amazing change in volume and attractive look of the lashes.
When applying volume eyelashesprecision is always important if you desire the ideal result. Thanks to thin, strong and ideally long joints the fans adhere beautifully to the natural eyelash. Even beginner lash artists can easily handle the application. With ready-made fans, extending eyelashes is more efficient, more comfortable and significantly faster than if you make the fans yourself.
Don't forget that behind quality workis quality tools in addition to skilled hands, and choose the right adhesive tape or gel eye pads, which will make your lash application even more effortless.
More info:
These eyelashes are among the top on the European market.
Application is similar to the algae-to-algae method (1:1).
The eyelashes are very soft and do not cause any irritation.
The product is designed for professional use.
Which type to choose?
Types of fans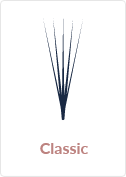 Curves
Thickness
The recommended thickness of 0.07 mm ensures a gentle and natural lash extension result. If you want a set with better retention, we recommend thinner lashes of 0.05 or less.
Length

Reviews
---