4D Lashes 0,07 mm - loose fan
---
Product description
Enhance the beauty of your eyes
A seductive feminine look can do wonders. And that's why eye lash extensions are a true mission for many lash stylists. To make your clients' dreams come true quickly, spectacularly, yet perfectly, we've packed up to 1,000 ready-made lash fans into a single package.
Using them will make eyelash extensions much easier for you and make your work faster by up to half than creating the fans yourself. They are made with really thin joints that glue beautifully to the natural eyelash and have high durability.
The curlers are an excellent option for lash stylists advanced, even beginners, mainly due to the quick application and symmetrical final result.
Equip yourself with quality tools, to make eyelash extensions even easier.
Further Information:
Application of the finished fans is similar to the lash to lash method (1:1).
They do not cause irritation.
The fans are sprinkled in a plastic cup.
Designed for professional use.
Which type to choose?
Types of fans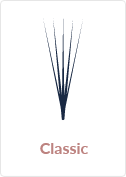 Curves
Thickness
The recommended thickness of 0.07 mm ensures a gentle and natural lash extension result. If you want a set with better retention, we recommend thinner lashes of 0.05 or less.
Length

Reviews
Reviews
(1x reviews)
Arithmetic mean of the 1 rating given.
so soft and thin
nothing
super
---