3D Volume Lashes 0,07 mm Premium 1200 pieces
3D Volume Lashes 0,07 mm Premium 1200 pieces
The package contains 1200 pieces of 0.07 mm thick fans in premium quality.
Handmade.
Glossy, very light and extremely soft material.
Thethin and tight joint of each fan ensures a perfect fit.
They replicate natural eyelashes and help to create amazing volume.
All fans are perfectly symmetrical.
Different lengths and curves are available.
You earn 40 Bonus Club points by purchasing this item.
Register and safe 10%
This product is available at more convenient price.
---
Product description
The perfect choice for a natural look
Are you an enthusiastic beginner or an experiencedtime stylist, do you care about quality and place emphasis on detail and perfect results? Then the Lashes PRO® Premium 3D Volume Lashes are a really great choice for you!
In the luxury cartridge you will find a total of 1200 pieces of precisely selected premium fans. Thanks to this clear sorting you will find them very easy to handle when doing your eyelash extensions. Moreover, the fans are made by hand from soft material, they do not fall apart and you can always rely on their quality.
When applying the lashes themselves, you will appreciate the very thin, strong and ideally long joint.This makes the fan greatly adhereto the natural lash and create the desired effect of natural lash extension that every lash artist, as well as every client, desires.
The main advantage over making your own fans or the lash-to-lash method (1:1) is that the already finished fans when eye lash extensions will guarantee a faster and more efficient job, resulting in a symmetrical and beautifully defined volume. For maximum comfort and optimal results when working, don't forget about other necessary aids, such as suitable tackers, adhesive tape or gel eye pads.
Further Information:
These eyelashes are one of the best on the European market.
Application is similar to the algae-to-algae method (1:1).
The eyelashes are very soft and do not cause any irritation.
The product is designed for professional use.
Which type to choose?
Types of fans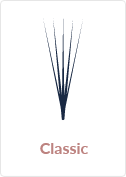 Curves
Thickness
The recommended thickness of 0.07 mm ensures a gentle and natural lash extension result. If you want a set with better retention, we recommend thinner lashes of 0.05 or less.
Length

Reviews
---