3D Volume Lashes 0.07 mm Brown Narrow Premium 2000 pcs
3D Volume Lashes 0.07 mm Brown Narrow Premium 2000 pcs
In the package, you will find 2,000 fans of natural brown Narrow lashes, which are narrower than standard types. All fans are perfectly symmetrical and contain soft and glossy eyelashes with a thickness of 0.07 mm. Their very thin and strong joints ensure easy application and perfect adhesion to the natural lashes. Thanks to the mix of 7-13 mm lengths, you can create a whole set of false eyelashes with just one pack.
You earn 59 Bonus Club points by purchasing this item.
Register and safe 10%
This product is available at more convenient price.
---
Product description
One pack contains 2,000 fans in a mix of 7-13 mm length.
Glossy, lightweight, and highly soft lashes with a thickness of 0.07 mm.
Narrow fans are tapered compared to standard types.
Premium quality guarantees perfect symmetry for all fans.
Each joint is thin and strong.
Easy application – ideal adhesion of artificial eyelashes to natural ones.
Different color options are available.
Eyelashes extensions that add rich volume and a natural look
Whether you're an enthusiastic beginner or an experienced lash stylist and your customers ask for lashes that are very thick yet natural, brown lashes will be just the thing to guarantee their satisfaction. Compared to traditional black lashes, they are less noticeable. Ideal for women with very fair skin and blonde hair.
The popular Narrow volume lashes have narrower fans than the standard Lashes PRO types. This ensures that you consistently achieve total volume and the desired perfect result. 
You may know these very thick lashes as "Russian Volume." The other type is "American Volume," which is much more airy. This is the one for which fans such as Classic Premium, Camellia Premium, and Wispy Premium are used.
The individual lashes are joined in a thin leg long enough to give you room for glue and natural lashes to bond tightly. In the pack, you'll find fans in lengths from 7 to 13 mm. So all it takes is one pack to create a whole set of false eyelashes. 
The fans' high-quality material and handmade production ensure resistance to everyday life's environmental influences. The eyelashes are very soft and incredibly light at the same time. Your clients won't even notice that they are wearing them.
Details:
Which type to choose?
Types of fans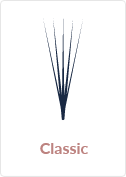 Curves
Thickness
The recommended thickness of 0.07 mm ensures a gentle and natural lash extension result. If you want a set with better retention, we recommend thinner lashes of 0.05 or less.
Length

Reviews
---