2D řasy Narrow (úzké) 0,07 mm - sypané 1000
2D řasy Narrow (úzké) 0,07 mm - sypané 1000
The package contains 800 - 1000 pieces of perfectly symmetrical fans.
Narrow fans are narrower than standard types.
Created for a very full, sleek and professional result.
They are light, soft, with a thin, strong and ideally long joint.
The fans are loosely stored in a plastic cup. For a tape-on lash option, choose the Narrow Premium Volume Lashes.
Handmade from high quality material.
Choose from different types of curves and lengths.
You earn 22 Bonus Club points by purchasing this item.
Register and safe 10%
This product is available at more convenient price.
---
Product description
Full, dense and lush volume lashes
The special Narrow fans will help you create the richest, perfectly aligned set of eyelashes that you and your clients had only dreamed of so far. Compared to our standard type of Lashes PRO volume fans, the Narrow lashes are narrower and more compact, making the lashes appear very full and well-groomed. 
These types of eyelashes are also often known as the "Russian Volume", while the line of fans that are more airy and slightly wider (for example, our Classic, Camellia and Wispy lines) are referred to as the "American Volume". 
Working with these lashes, as opposed to having to handmake all the fans yourself, cuts your work in half. Even in their narrow design, each piece stays perfectly symmetrical, which is very difficult to achieve when you're creating your own "live" fans. They are made of really thin connections, which blend in beautifully with the natural eyelashes when they are applied and hold firmly. 
You will especially appreciate these 3D fans if you are looking to achieve perfect volume but still want to keep your eyelashes looking natural and airy enough. This is why these types of lashes are among our most favourite! 
Tip from lash artist, Dana: Have you tried these types of fans and did you absolutely fall in love with them? I am not surprised! Don't hesitate to also try our Narrow Premium line of volume eyelashes. The fans are placed on tapes in form containers, which are subject to strict quality control. This also ensures that you are giving your clients only the best. 
Further Information:
    

Application of the finished fans is similar to the lash-to-lash method (1:1).

    

Does not cause irritation.

    

The fans are loose in a plastic cup.

    

Intended for professional use.
Which type to choose?
Types of fans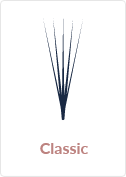 Curves
Thickness
The recommended thickness of 0.07 mm ensures a gentle and natural lash extension result. If you want a set with better retention, we recommend thinner lashes of 0.05 or less.
Length

Reviews
---