2D Lashes 0,07 mm - loose fan
2D Lashes 0,07 mm - loose fan
Light as a feather, extra black and amazingly soft.
Handmade, with a thin, strong and ideally long joint.
The package contains 800 - 1000 perfectly symmetrical fans.
They are suitable for all lash artists.
They guarantee a quick application and a perfect result.
Choose from different types of curves and lengths.
You earn 22 Bonus Club points by purchasing this item.
Register and safe 10%
This product is available at more convenient price.
---
Product description
Satisfied in her own skin
Soft eyelashes can do wonders to a woman's self-confidence. Give your clients that amazing feeling when they rediscover their beauty and like themselves. With 2D Fans Lashes PRO this will not be a problem.
The Hot Fans will make eyelash extensions easier and faster by up to half than if you had to create all the fans by hand. They are made with really thin joints that blend beautifully with the natural lash and hold firmly when applied.
Hot fans are a great option for lash stylists in small and large salons, mainly because of the efficient application and perfect final result.
However, don't forget to use quality tools while working and equip yourself with a suitable pencil and eye pad to make the whole process even easier.
Lash stylist Dana advises:Not sure which tweezer to choose and have 3 minutes to figure it out? Read my Eyelash Tweezers Guide and choose the right one for you.
Further Information:
Application of the finished fans is similar to the lash to lash method (1:1).
They do not cause irritation.
The fans are sprinkled in a plastic cup.
Designed for professional use.
Which type to choose?
Types of fans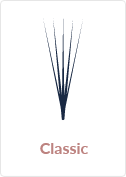 Curves
Thickness
The recommended thickness of 0.07 mm ensures a gentle and natural lash extension result. If you want a set with better retention, we recommend thinner lashes of 0.05 or less.
Length

Reviews
---